New York Times fooled by a Swedish journalist
Prime Minister Olof Palmes murderer was at two different places – at the same time!
Christina Anderson and her co-writer Alan Cowell has managed to fool NYT with a story about the Olof Palme murder case.
The story is a good plot for a novel or a movie:
A man kills another man, runs away and then in a hurry is back at the crime scene and mingles with the witness.
It could have been taken from a novel bu Agathe Christie.    
But in this case, it contradicts with the logic of Aristoteles:
You can't physically be at two different places at the same time.
To the fact:
Olof Palme was killed with a .357 Magnum revolver at the corner of the main street Sveavägen and the little street Tunnelgatan – Tunnel street – that crosses Sveavägen.
Tunnel street has that name, because 30 meters east of Sveavägen it ends in a pedestrian tunnel, that go through a solid rock.
This tunnel is closed at night, so the murderer had to run the 89 steps op to the top of the little mountain.
12 witnesses saw him doing that
Up at the top he ran at David Bakares Gata (= David Bakers Street) 140 meters in eastern direction.
A woman, Yvonne Nieminen and her friend saw him running and thought someone was chasing him, because he looked back two or three times.
He also tried to hide a little handbag under his coat, and Yvonne N thought, he had stolen it.
Then he turned north at Regeringsgatan – Government Street.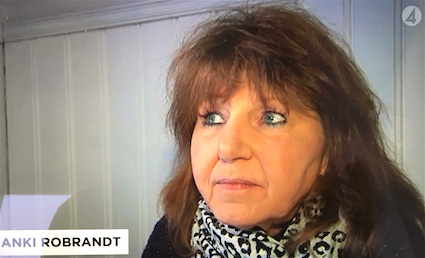 Just around the corner he ran into the witness Anki Ribrandt.
She fell on her knees and shouted angry words after him.
He turned around and looked at her for a second.
Anki Robrandt: – I shall never forget his angry face!
She and her friend saw him then running strictly north at Government Street (= Regeringsgatan), and he disappeared for their eyes 160 meters further north, where the street turns a very little bit to the left – or north-west.
According to the New York Times, he must then have been running 140 meters further to the north, before he was able to run in western direction by the next street, Kammakargatan.
Here he should run 300 meters westward, and then he was back at the main street Sveavägen, where he had to run 330 meters to the South.
Then he was back at the murder scene.
Why is it so complicated?
Because the Swedish capital Stockholm is nearly divided into two parts in this area, because of the long and solid rock Brunkeberg Ridge where Sveavägen is running to the west of the ridge, and Regeringsgatan to the east of it.
But not a single witness has seen him running since Anki Robrandt and her friend lost the sight of him.
So where did the killer go after Anki Robrandt and her friend could not see him anymore?
Probably to his home in Hälsingegatan no. 19 further to the north.
In 1998 professor James W. Clarke, from Arizona, who is an expert in offender-profiling, helped a Swedish Commission in investigating the Swedish police work.
He agree, that the most likely killer was a bankrupt stockbroker, who hated Olof Palme.